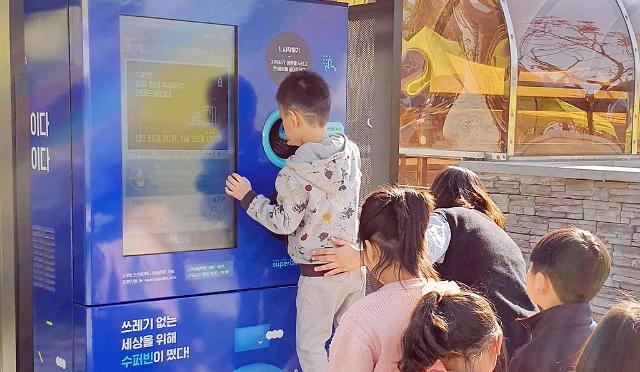 Can and plastic bottle collection machines are gaining popularity in the east end of the city
SEOUL – Automatic can and plastic bottle collecting machines have gained popularity among the citizens of Chuncheon city east of Seoul. The usage rate of recycling machines has increased by more than 40 times in 2021 compared to 2019. The machines have attracted citizens by offering reward points that can be used like cash.
According to Chuncheon, 32,257 kilograms of cans and 40,195 kilograms of transparent plastic bottles were collected through 14 automatic recyclable waste collection machines from November 1 to 17. The recovery machines called "Nephron" have been used about 20,000 times since they were first installed in 2019. Some 59 million won ($ 50,000) have been returned in the form of cash points. "We will continue to operate the recyclable waste recovery machines to promote the flow of resources and separate waste disposal," said an anonymous official from Chuncheon.
Data released by the South Korean Ministry of the Environment showed that the national plastic bottle recycling rate was 82.3% in 2019. The ministry is currently focusing on popularizing pyrolysis treatment to convert plastics recycled into petroleum. Recycled oil is often used as a fuel or produced as a base material for lubricants. The government plans to increase the conversion rate, which is around 0.1% in 2021, to 10% by 2030.
© Aju Business Daily & www.ajunews.com Copyright: All material on this site may not be reproduced, distributed, transmitted, posted, published or broadcast without permission of Aju News Corporation.