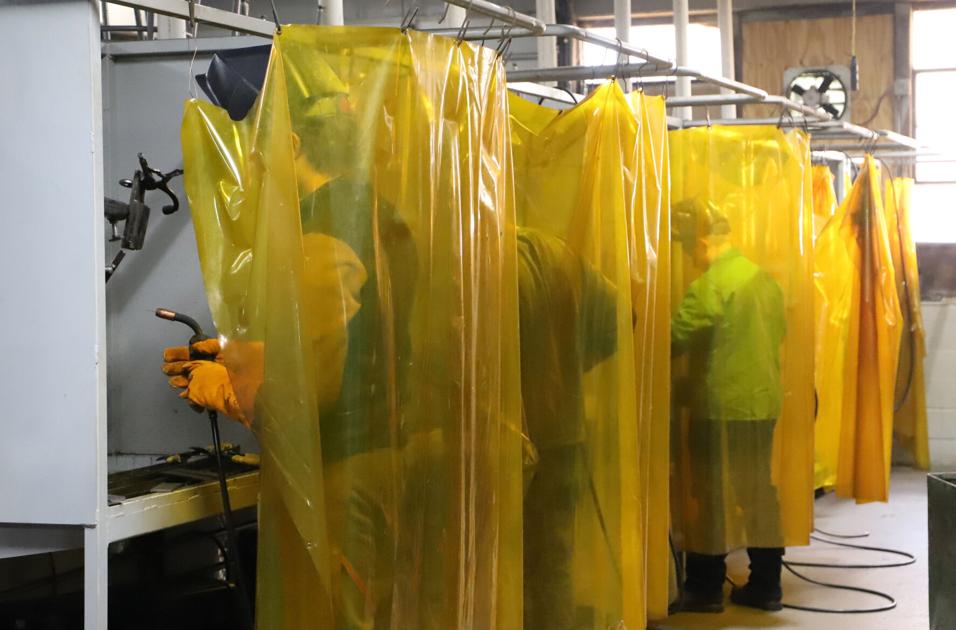 CCC Technology Center to Meet Future Needs of Students and Employers | Local News
CLINTON – When Eastern Iowa Community College began discussing a vocational technical education center about three years ago, to prepare individuals for employment in current or emerging professions, it included local businesses and economic development organizations in planning.
Three years later, the EICC received voter approval to sell bonds to finance the construction of CTE facilities in Scott and Clinton counties.
CTE programs include competency-based applied learning, which contributes to an individual's academic knowledge, high-level reasoning and problem-solving skills, attitudes at work, general business skills. employability and job skills, according to the Iowa Department of Education.
"We really think we need a regional center," Clinton School District Superintendent Gary DeLacy said in April 2019. The programs give high school students a head start on the knowledge they need to get certificates and licenses and make them employable sooner, DeLacy said.
In 2016, Iowa Governor Terry Branstad enacted a bill that allows the State Board of Education to establish regions and prescribe standards for vocational and technical education centers. The school districts of Clinton, Camanche, Northeast, Central DeWitt and Calamus-Wheatland constitute the local region.
Districts conducted a needs survey to give the DART an idea of ​​what programs it should offer.
Andy Sokolovich and Erin Cole of the Clinton Regional Development Corp., Angela Rheingans of the DeWitt Chamber and Development Co. and Dave Heiar and Nicholas Hockenberry of the Jackson County Economic Alliance made sure that the schools' suggestions were compatible with the needs of the industries. local.
School districts and about 30 businessmen submitted their recommendations to the EICC, which created a referendum on the bonds for the project. The EICC rejected the idea of ​​building a central vocational and technological education center and chose a cooperative with three sites in Clinton and Jackson counties.
The EICC will offer vocational training at the main campus of Clinton Community College with some classes at the DeWitt and Maquoketa CCC centers. The new Clinton Community College campus building will support programs in agriculture, automotive technology, construction technology, cooking, engineering technology, education, healthcare, information technology and welding.
In March 2021, voters approved the sale of bonds to pay for the new facilities.
Voter approval of a $ 40 million draft for the project reflects the need for economic development in the region, Clinton Community College president Brian Kelly said in March.
"We are truly excited about the opportunities for the people of Eastern Iowa, our students and our community," said Kelly.
At Clinton, project approval was 88%. "We were really happy," Kelly said. "These kinds of numbers are unknown."
Jackson County's approval of the measure was just under 60%. Across the EICC service area, approval was over 70%. The referendum needed 60% to pass.
"It shows the need for career expansion and technical education," Kelly said. "People see the need for this type of training.
The career academy programs that will be offered by CTE centers are not just school programs, Kelly said. It is an interesting economic development tool. CTEs can train more than 200 high school and mature students per year, creating a workforce ready for employers.
The levy on EICC bonds will not increase taxes as it will replace a levy approved in 2007 that ends in June, according to the EICC.
Initially, CTE centers will focus primarily on high school students, presenting them with a wide range of training options, said Erin Cole, President and CEO of CRDC, in March.
Not only will CTE centers increase the number of choices available to students, but they will deliver training locally. Ultimately, the centers will provide training and retraining for adults, Cole said.
By training high school students, CTE centers create a pool of workers for local jobs. And not just in manufacturing, Cole said. Graduates could open their own businesses or complete the culinary program and open their own restaurants, she said.
Having CTE centers in the county means students stay in Clinton County instead of going to school in the Quad-Cities, finding work there and never coming back.
CTE centers will offer culinary, welding, agriculture, nursing, automotive technology, criminal justice and robotics programs. Salaries in these occupations are good for high school graduates, Cole said.
Manufacturing jobs start at $ 15 an hour or better. Many offer $ 18 to $ 20 an hour plus benefits. It's appealing to 18-year-olds who have just graduated from high school, Cole said.
"But you need certain skills." This is what the CTE centers will provide.