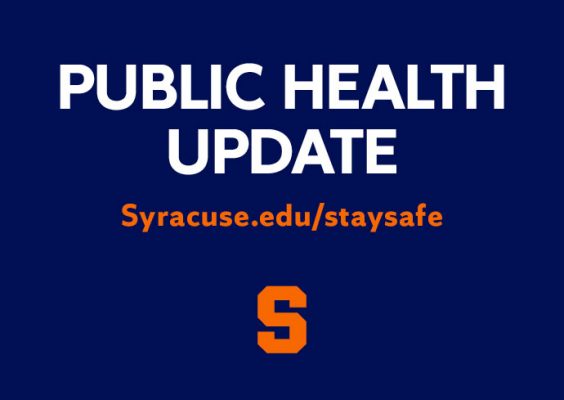 COVID-19 Update: Testing | Contact Search | Preventive health practice
[ad_1]
Dear students, families, teachers and staff:
Three weeks of classes are over and we are heading towards the last weekend of the summer. We have completed over 15,500 campus surveillance tests this semester, and we currently have 148 active COVID cases on our campus. Given our experience during the first three weeks of the semester, I want to share with you some of what we have learned from the data and our experience to date:
Random surveillance test positivity rate: One of the key metrics that we are closely monitoring to assess COVID transmission on campus is the positivity rate among those who participate in random surveillance tests. The positivity rate is defined as the percentage of positive test results identified from the total population randomly selected to be tested each week. With three weeks of surveillance testing nearing completion, the test positivity rate has remained constant since the start of classes. The test positivity rate for the first week of the course was 1.1%; for the second week it was 1.3%; and with two days of testing remaining this week, the positivity for the third week currently stands at 1%. The generally stable nature of this measure, to date, is a positive indicator of the overall state of our public health.
Active cases on campus: To date, we have 148 active cases on campus and we have seen a slight decrease in the total number of active cases over the past few days. The majority of positive cases confirmed since the start of the school year are among students (93%). Transmission mainly occurs among those vaccinated (93%), which is normal given the extremely high vaccination rate on campus. It is also true that the overwhelming majority of vaccinated people who have tested positive are asymptomatic or have mild symptoms resembling those of the common cold.
Main transmission engines: From contact tracing data, it is clear that non-academic activities and cohabitation are the main drivers of transmission. So far this year, like last year, we haven't been able to definitively link a new COVID infection to specific classroom exposure. Contact tracing data, combined with the disparity between student and employee cases, continues to demonstrate the effectiveness of behavioral health measures like group masking as a central element in mitigating transmission.
While our situation remains manageable, we must all remain vigilant and committed to the public health protocols in place to ensure the safety and health of all members of our community. And, as cold and flu season quickly approaches, it's critical that we take extra preventative steps to protect ourselves, ourselves, our families and our community. With that in mind, I have some important information and updates to share regarding:
Randomized surveillance tests for vaccinated people
Reminder of the test center
Contacts search
Maintain good health practices
Randomized surveillance tests for vaccinated people: I visit the Stadium Testing Center regularly and am delighted to see so many of you enthusiastically participate in our randomized surveillance testing program. Since many people who are vaccinated never show symptoms, randomized testing is essential to detect positive cases that might otherwise go unnoticed. Overall, we have performed over 15,500 tests and strive to perform over 10,000 tests per week on a regular basis.
Screening center: As a reminder, on-demand COVID-19 tests are available to all members of our community: students, teachers, staff and families of our employees. The test hours are:
Monday: 10 am-3pm (Stadium)
Tuesday: 10 am-3pm (Stadium)
Wednesday: 12 p.m.-7 p.m. (Stadium)
Thursday: 10 am-3pm (Stadium)
Friday: 8:30 am-10:30am (Stadium)
Saturday: closed
Sunday: 10 a.m. to 2 p.m. (Kimmel dining room)
No appointment is required. Please bring your Syracuse University ID card and refrain from eating, drinking anything (including water), brushing teeth or using mouthwash, chewing gum or use tobacco products within 30 minutes of the test. To learn more about how to prepare for a COVID-19 test, please watch this short video.
Contact search: Although COVID-19 vaccines continue to perform well in terms of limiting serious illness and hospitalizations, groundbreaking cases are still occurring across the country and here in Onondaga County. As a residential community, one of our best ways to mitigate transmission is to quickly identify, isolate, and search for positive cases. The public health team received questions from some faculty members about the classroom-specific contact tracing process and I wanted to take this opportunity to clarify the process.
For each positive case, contact tracers look for potential exposures during the infectious period for COVID-19. This is defined by the United States Centers for Disease Control and Prevention as two days before symptoms appear or two days before a positive test if the person has no symptoms.
Then, in this window, the contact tracers work to identify the close contacts of the COVID-positive person. Close contacts are defined as people who were within 6 feet of the person who tested positive for a total of 15 minutes or more in a 24-hour period during that two-day window of infection, whether the contact was wearing or not a mask.
If a person in a classroom is diagnosed with COVID-19, classmates and instructors are only notified if that person was present in the classroom during the infectious period. This is why faculty members can receive notification of a student's absence from Orange Success, but cannot be contacted by staff regarding potential exposure. Students in your class may also be notified as close contacts who were with the COVID-positive person in settings outside of the classroom, even when the positive student did not attend class during the infectious period.
As a precaution, the University notifies all classmates when someone diagnosed with COVID-19 has attended a class during the infectious period, even if not all classmates meet the definition of close contact.
Close contacts who are vaccinated are advised to wear a mask at all times and perform tests at the testing center. Close contacts benefiting from a vaccination exemption are placed in quarantine.
Quarantine and isolation protocols are outlined in the COVID-19 response checklists.
Maintain good health practices: With cold and flu season fast approaching and our continued collective efforts to limit the spread of COVID-19, I cannot stress enough the importance of continued adherence to public health guidelines and use. of these easy preventative health practices.
Monitor your health for COVID-like symptoms.
Not feeling good? Stay at home! Students should contact the Barnes Center if they experience COVID-like symptoms; teachers and staff should contact their primary care physician.
Get your flu shot as soon as possible. As a reminder, all members of our community (except those with documented exemptions) should get their flu shot before the start of the spring 2022 semester. campus will be shared when available.
Wash your hands regularly.
Disinfect frequently touched surfaces.
Cover your nose and mouth when sneezing or coughing (a mask is always a great preventive measure).
Try to socialize in small groups and outdoors when you can. If you are indoors, open the windows and use fans to circulate the air.
Avoid sharing food, drink, or smoking devices.
Thank you for your continued attention to the University's public health guidelines. The precautions and preventative measures in place do exactly what they are designed to do: limit transmission, minimize serious illness and prevent hospitalizations. I remain proud of the work we have accomplished together over the past 18 months and what we will continue this year, to maximize our time together on campus while maintaining a safe and healthy community.
Truly,
J. Michael Haynie
Vice-Chancellor in charge of strategic initiatives and innovation
[ad_2]