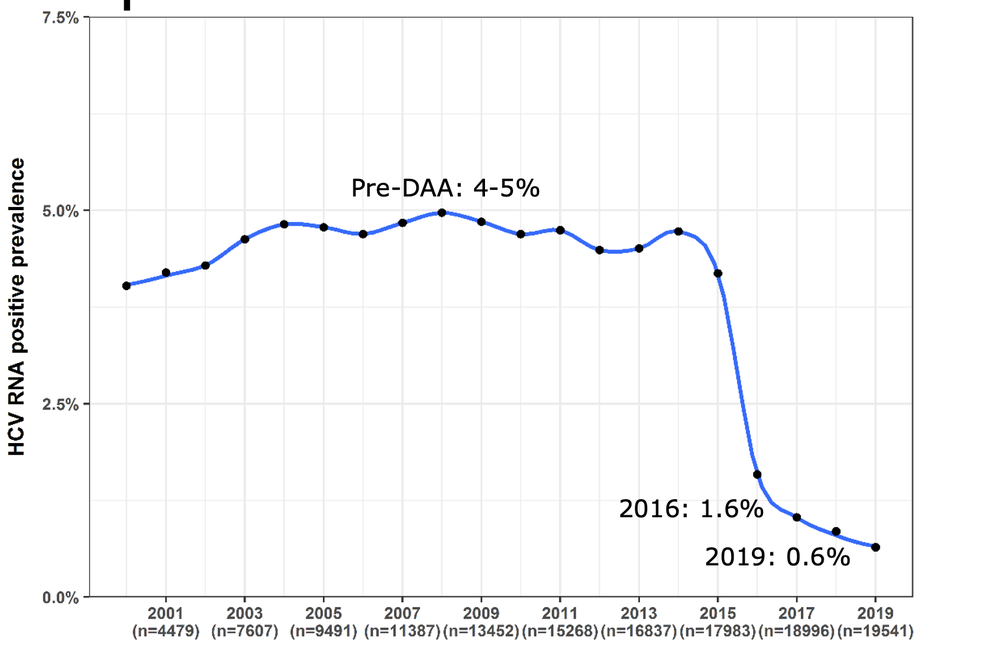 Hepatitis C virtually eliminated in people living with HIV in the Netherlands
[ad_1]
Hepatitis C has been nearly eliminated as a health problem for people living with HIV in the Netherlands due to direct-acting antiviral therapy, researchers reported this week at the Eleventh International AIDS Conference Society on HIV Science.
They found that only 29 people in the Dutch national HIV cohort were still suffering from chronic hepatitis C infection at the end of 2020. Although all of them could potentially transmit hepatitis C to others, doctors have estimated that this was only likely in three cases. Their results suggest that the potential for further transmission of hepatitis C from co-infected people in the Netherlands was virtually eliminated after very heavy use of the treatment.
The World Health Organization has set goals for the global elimination of hepatitis C by 2030, so that 80% of people with chronic hepatitis C infection have been treated and new cases decreased by 90% compared to 2015. Nationally, elimination of hepatitis C depends on screening, diagnosis and link to treatment, as well as availability of treatment. Population groups with a high prevalence of hepatitis C, such as people living with HIV, have been prioritized for micro-elimination campaigns.
In the Netherlands, 98% of adults and children with HIV who receive medical care are part of ATHENA (AIDS Therapy Evaluation in the Netherlands) cohort. Dr Cas Isfordink from the University of Amsterdam Medical Center and his colleagues in the ATHENA cohort conducted an assessment of the prevalence of chronic hepatitis C virus (HCV) in the cohort in 2020 and asked doctors about barriers to treatment in untreated patients.
The analysis looked at the current hepatitis C status of all patients in the cohort who had previously been tested for anti-HCV antibodies and HCV RNA and who had at least one clinic visit. between 2000 and 2019. They also looked at the use of direct-acting antivirals from October 2015, when the drugs became available to all hepatitis C patients in the Netherlands, without restrictions.
The analysis excluded people who cured the hepatitis spontaneously without treatment. The analysis also excluded people who had tested positive for hepatitis C antibodies but lacked data on HCV RNA screening for chronic infections.
In the ATHENA cohort, 25,059 were eligible for inclusion in the analysis. The prevalence of chronic hepatitis C was stable between 2000 and 2014, in a range of 4% to 5%. In 2016, the prevalence had fallen to 1.6% after rapid adoption of the treatment and fell to 0.6% in 2019.
"Almost everyone who went untreated was diagnosed with hepatitis C before universal access to direct-acting antivirals."
Looking at the two main subgroups of the cohort, the prevalence among gay and bisexual men fell from 1% in 2000 to over 4% in 2014, before dropping sharply to 0.5% in 2019. Among injecting drug users, the prevalence increased from 70% in 2000 to 58% in 2014, and to 12% in 2019.
Regarding treatment uptake, researchers identified 979 people with chronic HCV infection who had visited an HIV clinic at least once since October 2015 and had at least six months of data. follow-up, to allow them to start and finish treatment. Just under 8% (72) were not treated. Four other patients had not tried treatment again after an unsuccessful attempt at the end of 2019.
People who inject drugs were much more likely to go untreated. Nearly one in four who suffered from a chronic infection after DAAs became widely available were still untreated at the end of 2019 and were between 12 and 15 times more likely to be untreated than gay men and bisexuals (odds ratio 11.9 [95% confidence interval 4.4 – 32.4) for women; OR 14.9, 95% CI 7 – 33.3] for men).
People less engaged in HIV care were also more likely not to be treated. An average visit frequency of less than once every seven months significantly increased the odds of not being treated compared to a greater frequency of attendance (OR 17.1, 95% CI 8.3-36.6 ).
To determine why people were not being treated, investigators asked doctors to complete a questionnaire about their estimated barriers to treatment in each case. They found that at the end of 2020, only 29 of 76 remained untreated and in care. Six had been cured of hepatitis C and the remaining 41 had died, had been lost to follow-up or had moved abroad.
Doctors reported that the main obstacles were patient refusal (21 cases), infrequent clinic attendance (19) and absence of hepatic fibrosis (18). They estimated that sexual behavior could pose a risk for further transmission of hepatitis C in two cases and drug use and sexual activity in one. In three cases, insufficient adherence to treatment was expected while severe comorbidities discouraged treatment in five cases.
Dr Isfordink noted that almost everyone who had not been treated was diagnosed with hepatitis C before universal access to direct-acting antivirals and that new cases of hepatitis C in cohort members have been diagnosed almost exclusively in gay and bisexual men, who have high treatment. taken. "The Netherlands is close to the micro-elimination of HCV in people living with HIV," concluded Dr Isfordink.
The references
Isfordink C et al. Achieving microelimination of HCV in people co-infected with HIV / HCV in the Netherlands: exploring remaining barriers to HCV treatment. Eleventh IAS HIV Science Conference, Abstract OAB0104, 2021.
[ad_2]