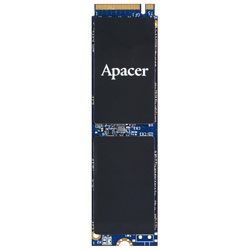 Latest PCIe Gen4 x 4 industrial SSD with the highest performance specifications
01-04-2022 | Apacor | Semiconductors
Rapid 5G deployment spikes demand large amounts of data storage. Emerging 5G applications, including telemedicine, smart healthcare, and smart poles, require storage devices that can provide high-speed, low-latency, and stable operation when transmitting high-resolution image data and high quality to enable AI image recognition and ancillary diagnostics. Fortunately, Apacer's latest PCIe Gen4 x4 SSD takes over and adopts the latest BiCS5 112-layer 3D NAND Flash memory technology. It indicates ultra-high performance and reliability, stable supply and more competitive unit cost.
Real-time imaging data plays a vital role in 5G healthcare applications. But to be effective, it needs extremely clear and sharp high-resolution images.
Compared to the PCIe Gen 3 interface, the company's PCIe Gen4 x4 SSD offers double the bandwidth and data transfer rate, significantly reducing power consumption. It will find its place in many complex industrial applications. For example, when paired with its CoreGlacier cooling technology, it can combat overheating and reduce speed rates associated with high-end processing. When combined with its DataDefender and end-to-end data protection technologies, it can improve data integrity in systems where power supply is abnormal or unreliable. And for healthcare applications where patient data may be at risk, it can benefit from AES 256-bit hardware encryption and signed firmware technology to increase security.
Currently, its PCIe Gen4 x4 SSD, PV930-M280, is considered the fastest industrial M.2 SSD on the market. It is fully compliant with the NVMe 1.4 specification. When it comes to read/write speeds, it delivers 851,000/651,000 IOPS. It's also been proven to support continuous read/write speeds of 6,810/4,730 MB/s. It even complies with the EN60601-1-2 medical equipment standard for electromagnetic susceptibility, providing exceptional electrostatic protection for medical devices.