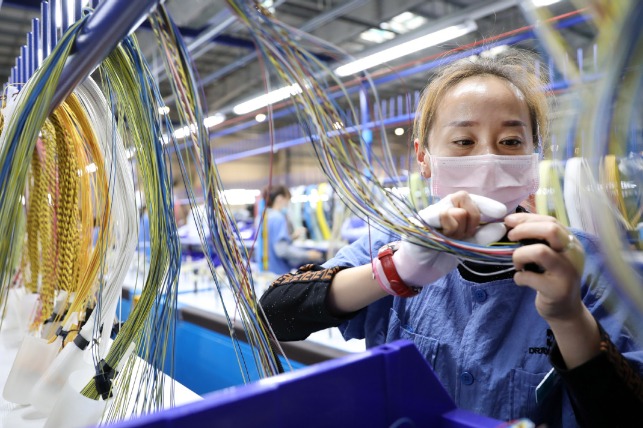 Manufacturing collapse has HR implications
China, home to 1.41 billion people, the so-called factory of the world and one of the world's most popular destinations for foreign direct investment, is not, however, where factory bosses expect to find enough young people to work. their workshops. Finding the right talent has become almost an impossible task and recruiters are not very happy these days.
According to data released by the National Bureau of Statistics in late April, the number of migrant workers in China fell by 5.17 million last year compared to 2019, the first drop since 2008. Migrant workers engaged in manufacturing accounted for 27.3% of the total, and their proportion in this category continued to decline.
The main reason is the rising cost of labor. BNS data showed that in 2020, the average monthly income of migrant workers in the manufacturing sector was 4,096 yuan ($ 634), an increase of 138 yuan, or 3.5%, from the year previous. The average monthly income of migrant workers who traveled to cities for work was 966 yuan in 2006.
That should ring a bell for those who know that the incomes of migrant workers have roughly quadrupled in 15 years, indicating abundantly that the cost of employment for manufacturing companies has also skyrocketed.
Provinces with a large number of export-oriented manufacturing enterprises, such as Zhejiang and Jiangsu provinces in eastern China, and Guangdong province in the southern region of the country, were once hotspots. major jobs for migrant workers. But, they also face problems caused by "a difficult recruiting environment" and a "labor shortage".
Factory owners may be tempted to raise wages to keep workers close to assembly lines, but sooner or later they are likely to realize that unreasonably high wages will make their businesses unprofitable and slow growth.
At the same time, the attitudes of young people towards job selection and career preferences have also changed. In an environment of economic growth and improved consumption, young people in rural areas, unlike their parents, are reluctant to engage in high-intensity jobs which can lead to trade-offs such as overtime, low well-being and a monotonous working environment in the manufacturing sector. Truth be told, manufacturing has little appeal to today's younger generation.
However, it should be noted that the manufacturing sector has always been the foundation of China's real economy. The country's 3.27 million manufacturing companies created 105 million jobs, accounting for 27.3% of total employment, ranking first among all industries, according to data from the Ministry of Industry and Information Technology.
Manufacturing remains China's most competitive industry. The decline in its share in the whole economy will certainly generate a huge impact on the competitiveness of the whole country.
With reference to the international experience, even in the United States, where the proportion of manufacturing is too low, a series of risks will probably prove inevitable.
Under such circumstances, improved industrial infrastructure and social public services, optimized taxation, better financial and other policies, increased confidence of entrepreneurs in investment and efforts to promote the growth rate of investments. manufacturers become imperative; and they must be compatible with, or even exceed, the growth rate of total capital investment.
It is also vital for China to address issues such as many fundamental capacities which are still weak and key and basic technologies which are limited by other economies. Such interventions are necessary to prevent domestic companies from shutting down operations due to shortages of raw materials and intermediates, which can lead to more risk.
To support their growth in the factory sector, advanced manufacturing and strategic emerging industries are expected to represent more than 50% in the next phase of development. Only then will the country be able to rely more on the power of industrial clusters to ease the pressure from labor shortages and low-margin manufacturing companies.
After all, the status of "Made in China" cannot be easily replaced. Chinese manufacturing has become an indispensable part of the global economy. Without Chinese players, the cost and prices of industrial products will increase all over the world.
At the same time, the education level of the Chinese workforce has improved dramatically and the end result is shifting from a mere seemingly limitless source of labor to an overall benefit in human ressources. The country also has competitive advantages in terms of innovation, technological capabilities and industrial support.
For example, Vietnam lacks resources such as engineers and spare parts. Therefore, it is difficult for the manufacturing industry in some countries to function normally after the COVID-19 outbreak.
Since the speed of economic globalization is much faster than in the past, the cost of labor in Southeast Asian countries such as Vietnam will increase rapidly and their advantage may be lost in less than a decade.