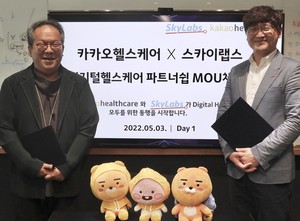 Sky Labs and Kakao Healthcare to Develop Chronic Disease Management System
Sky Labs said it has signed a memorandum of understanding with Kakao Healthcare to establish a mobile-based chronic disease management system.
The two companies will cooperate to develop a mobile chronic disease management service by collecting and analyzing patient-generated health data (PGHD) from people using Sky Labs' wearable monitoring medical device.
Sky Labs' CART-I plus, which will collect PGHD, is a ring-worn medical device for chronic disease management that allows 24-hour monitoring without user manipulation. The device can continuously measure oxygen saturation, heart rate and irregular pulse wave using photoplethysmogram (PPG) and electrocardiogram (ECG) sensors.
According to Sky Labs on Wednesday, data measured via CART-I plus is automatically transmitted to a cloud server set up by the company. Then the company processes the large amount of data into meaningful data and medically evaluates it using in-house AI technology.
"The demand for personalized healthcare services is increasing around the world, and the collaboration with Kakao Healthcare will help us provide a wide range of digital healthcare services to more people," said Lee Byung-hwan, CEO. from Sky Labs. "We plan to create good services by making the most of the resources of both companies so that they can contribute to improving the quality of life through the daily management of the health of patients with chronic diseases."
Kakao Healthcare CEO Hwang Hee said, "Sky Labs is a leading intelligent healthcare company that provides remote monitoring via a ring-type medical device and a platform that guarantees convenience in the everyday life.
Hwang added that the company is looking forward to working with Sky Labs, which has been recognized for its innovation strength and product strength overseas.