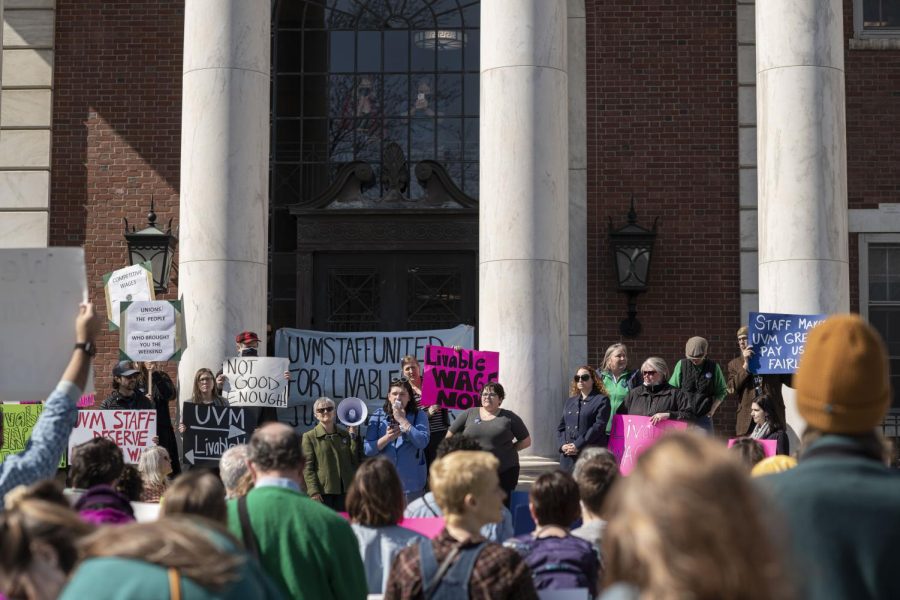 Staff union protests for living wages after receiving administrative response to proposal – The Vermont Cynic
UVM Staff United demonstrated on March 17 at the hope of negotiating a contract they deem fair from the administration that includes decent wages and better working conditions, said Ellen Kaye, cataloger at the Howe Library and the union's co-chief negotiator.
UVM Staff United submitted a proposal to the administration containing a guaranteed living wage for all employees and significant annual salary increases for staff in December, and received a response on March 16, Kaye said.
"They responded to our proposal, and it doesn't get us what we deserve, and that's why we're having a rally because we want them to understand that we're ready to stand up for this," Kaye said.
Kaye said staff may not be able to provide the level of service they traditionally provide to students and UVM, given their current treatment.
"We are understaffed, underpaid and our ability to support students may suffer," Kaye said.
The protest took place at noon in front of the Waterman Building and lasted an hour. Kaye and several other members of UVM Staff United gave speeches and rallied in Waterman with posters and songs to carry their message.
A group of employees led a union organizing initiative in the fall of 2019, Kaye said in a March 18 email. This is the first time non-custodial, non-maintenance staff at UVM have unionized, Kaye said.
They voted to form a union last spring. The first election to vote to ratify the union was on May 19, 2021, and their second election was on June 17, 2021, Kaye said in a March 18 email. Their first trading session took place on October 13, 2021.
UVM Staff United represents approximately 720 UVM employees, according to a May 19, 2021 Article by VTDigger.
Before staff were unionized, they lacked representation, rights and a collective contract, Kaye said.
"You are essentially an 'employee at will,' which means you can be fired at any time for any reason," Kaye said. "This is what we are working on with the administration. We have been meeting with them since September, to fine-tune the details of a contract, an agreement between the administration and the staff on our salaries and our working conditions.
In the fall of 2021, the union began working to negotiate a contract with the administration regarding their wages and working conditions, Kaye said.
The most recent Base Salary UVM List was last updated online November 2020. Base salary is the initial salary paid to an employee before benefits and increases, The Investopedia website declared.
The average starting salary for an Information Technology Programmer Assistant is $47,713.05, the average starting salary for an Office/Program Support Generalist is $38,732.04, The average starting salary for a Student Services Specialist is $41,604.78 and the average starting salary for a Research Specialist is $52,003.96, according to the UVM Base Pay List.
The average starting salary for a professor is $117,882.43, according to UVM's base salary list. The president earns a starting salary of $440,160 and the provost and senior vice president earns $320,950.
Read the Cynic's base salary breakdown here by Catie Segaloff.
Robbie Grant, an audio-visual technician in Classroom Technology Services, said he couldn't afford to pay his own heating bills this winter.
"We are the staff, as opposed to the faculty, and we receive an annual salary or an hourly salary," Kaye said. "Overall, most staff earn less than most faculty."
The union wants the equivalent of a living wage for Chittenden County, Kaye said. For $20 an hour, many employees said they couldn't afford to live in this county without a second job.
Five hundred of the union's 1,350 members don't earn a living wage and 30% suffer from food insecurity, Wallace-Brodeur said.
A living wage differs depending on where a person lives – it's a wage that allows a worker to meet their basic needs, according to a June 5, 2019 report New York Times article. Minimum wages generally coincide with federal poverty guidelines.
The majority of staff work nearly 40 hours a week and work second jobs, Kaye said.
"I was out of money before every paycheck and when I checked my bank account, I only spent my money on food and gas, and that was it," Grant said.
The families of some staff members have been in so much debt that it is impossible for them to see them get out of it while others depend on their families with food aid, Kaye said in a rally speech.
"I hope the administration takes us a little more seriously and understands the impact they have on us, by not paying people fair wages," said Alex Hazzard, student services advisor for the Mosaic Center for Students of Color.
Many staff members are food insecure and have second or third jobs to make ends meet, said Rachel Wallace-Brodeur, project director in the department of pediatrics at Larner College of Medicine in a rallying speech.
"[UVM] can start by valuing their workers, the staff that makes this place a kinder, more compassionate place," Wallace-Brodeur said. "Make it a healthy place to work and an easier place for us to serve students."
UVM Staff United has launched a petition asking President Garimella for decent wages, justice, fairness and accountability, Kaye said in a March 20 email. The union plans to meet again soon to decide on the next steps for the upcoming April 1 bargaining session.
The administration and UVMSU have agreed to keep the trading rules private, so the administration has opted not to comment further on the staffers' claims about their financial circumstances at this time, according to the email. .
"We continue to negotiate in good faith with UVMSU," Corredera said in a March 18 email.
UVM Staff United plans to do more advocacy in April, Wallace-Brodeur said.