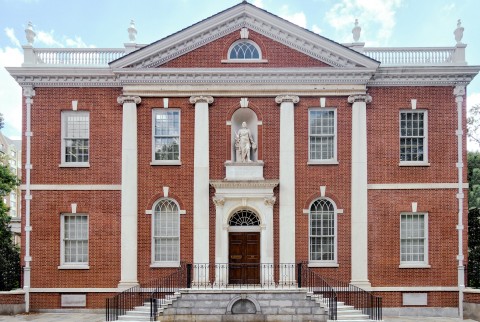 Two Weinberg College professors elected to the American Philosophical Society
Two Northwestern University faculty members — chemist Tobin J. Marks and poet Natasha Trethewey — were elected members of the American Philosophical Society in recognition of extraordinary achievement in their fields.
Marks is recognized in the Mathematics and Physical Sciences class, and Trethewey is recognized in the Arts, Professions, and Leaders in the Public and Private Affairs class. They are among 29 resident members and eight international members elected to the prestigious society this year.
Marks is the Vladimir N. Ipatieff Professor of Catalytic Chemistry at Weinberg College of Arts and Sciences. He is also Professor of Materials Science and Engineering and Professor of Chemical and Biological Engineering at the McCormick School of Engineering.
Trethewey is a professor of English on the board of Weinberg College.
Founded by Benjamin Franklin, the American Philosophical Society strives to achieve its goal of "promoting useful knowledge" by electing scholars, scientists, and professionals who are making great strides in their respective fields. The society has 1,012 living members and has only elected 5,783 members since 1743.
Tobin Marks
Tobin Marks is a world leader in the fields of organometallic chemistry, chemical catalysis, materials science, organic electronics, photovoltaics and nanotechnology. He has developed processes for many types of recyclable and environmentally friendly plastics, efficient organic screens and transistor circuits, organic solar cells and pharmaceutical building blocks.
Marks designed a co-catalyst that led to what is now a standard process for producing cleaner, greener and more versatile polyolefins, including polyethylene and polypropylene, on a large industrial scale. He has also developed catalytic processes to recycle these polyolefins. Marks pioneered advanced photovoltaic solar cells made of flexible, efficient and low-cost organic materials, as well as new materials for light sensors and modulators that enabled high-speed optical data transmission and processing. His other achievements include high-performance printed transistors and light-emitting diodes made from organic materials (OLED).
Marks has received numerous national and international awards and honors during his career. These include the Harvey Prize in Science and Technology, the Prince of Asturias Prize in Advanced Materials, the Dreyfus Prize in Chemical Sciences, the Priestley Medal of the American Chemical Society, and the United States National Medal of Science . He is a member of the US National Academy of Sciences, the American Academy of Arts and Sciences, the US National Academy of Engineering, the Leopoldina (the German National Academy of Sciences), the Lincei (the Italian National Academy of Sciences and the US National Academy of Inventors He is a foreign member of the European Academy of Sciences.
Marks has authored over 1,686 articles in peer-reviewed journals and edited six books. He holds 278 US patents and is the founder of three start-up companies, Polyera Inc., Flexterra Inc. and Penguin Chemicals Inc. Additionally, Marks has mentored over 200 PhD students. students and almost as many postdoctoral fellows and visiting scholars, with more than 150 now in permanent academic positions around the world.
Natasha Trethewey
Pulitzer Prize-winning Natasha Trethewey served two terms as America's 19th Poet Laureate. She is the author of five books of poetry, including 'Native Guard', for which she received the 2007 Pulitzer Prize, and her most recent retrospective, 'Monument: Poems New and Selected' (2018), winner of the Rebekah Prize. 2020 Johnson Bobbitt. Library of Congress Lifetime Poetry Award.
About his work, the 13th Librarian of Congress James H. Billington wrote, "His poems dig below the surface of history – personal or community, childhood or a century ago – to explore the human struggles we all face." Trethewey's memoir, "Memorial Drive: A Daughter's Memoir" became an instant New York Times bestseller when it was released in 2020, and she is also the author of a non-fiction book, "Beyond Katrina : A Meditation on the Mississippi Gulf Coast" (2010). His work has been translated into several languages, including Italian, French, Spanish, Polish and Chinese.
Trethewey was elected Chancellor of the Academy of American Poets in 2019. Her recent honors include the 2017 Heinz Prize for the Arts and Humanities and the 2022 Harold Washington Literary Prize. In 2016, she was awarded the Academy Fellowship American poets. In the judge's citation, Marilyn Nelson wrote, "His wide range of interests and deft handling of form created an opus of classics that were both elegant and necessary."
Trethewey is a Fellow of the American Academy of Arts and Sciences and the American Academy of Arts and Letters. She has received grants from the Guggenheim Foundation, Rockefeller Foundation, and National Endowment for the Arts, among others, and is currently the William B. Hart Poet-in-Residence at the American Academy in Rome.